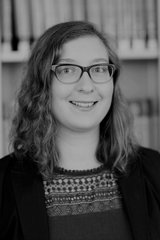 Merle Ingenfeld
Institute of North American History
University of Cologne
Albertus-Magnus-Platz
50923 Cologne
E-Mail: m.ingenfeld(at)uni-koeln.de
Curriculum Vitae
2019-2020 | Academic year as full-time Graduate Student at Carleton University as part of the co-tutelle degree agreement
Since 2019 | PhD Candidate at Carleton University in Ottawa (Ontario, Canada), supervised by Prof. Dr. Jennifer Evans
2018-2021 | a.r.t.e.s. EUmanities Programm Fellow (MSCA co-funded) at the a.r.t.e.s. Graduate School for the Humanities Cologne, University of Cologne
2018 – 2019 | Long-term Visiting Doctoral Fellow at the German Historical Institute Washington in Washington, DC
2017/2018 | "Predoc" Scholarship for the Preparation of a PhD Proposal at the a.r.t.e.s. Graduate School for the Humanities Cologne
Since 2017 | PhD Candidate in Modern History, supervised by Prof. Dr. Anke Ortlepp and Prof. (e.m.) Dr. Norbert Finzsch
2013- 2016 | Graduate Studies in North American Studies (Focus on U.S.-American History and Economics) at the Universities of Bonn and Cologne (M.A., University of Bonn, 2016)
2013-2018 | Social Media- und Project Assistant, Headquarters of the Max Weber Foundation, Bonn
2012 | Undergraduate Exchange Semester in Modern History at the University of St Andrews (Schottland, UK), funded by the EU's Horizon 2020 (Erasmus Scholarship)
2010-2013 | Research Assistant for the Department of Constitutional, Economic, and Social History, University of Bonn
2009-2013 | Undergraduate Studies (Major: History; Minor: Minor Media and Communication Studies) University of Bonn (B.A., 2013
Publications (Selection)
"Conference Report: Entangling the Pacific and Atlantic Worlds: Past and Present. A Symposium Commemorating Helmut Schmidt, 25.03.2019 – 27.03.2019 Berkeley", GHI Bulletin 65 (Fall 2019), 147-151; also available online on HSozKult (October 1, 2019).
"Review of 'The Straight Line. How the Fringe Science of Ex-Gay Therapy Reoriented Sexuality' by Tom Waidzunas (Minneapolis 2015)", Committee on Lesbian, Gay, Bisexual & Transgender History Newsletter (Fall 2018), pp. 8–11.
"Neither Really Global nor Imperial? – How to Conceptualise Connectivity over Countries, Empires, Continents and Oceans" (together with Tom Menger), GRAINES: Graduate Interdisciplinary Network for European Studies, 13 June 2018.
"Butler, transregional? – Anmerkungen zu Judith Butlers Vorträgen an der Uni Köln", Trafo – Blog for Transregional Research, 27 January 2017.
Find a full list here: ORCiD 0000-0002-4585-024X.
Invited Talks and Project Presentations (Selection)
"Tracing an Archive of Trauma: Conversion Therapy, Memory Politics, and the Ephemeral Nature of Medical and Queer Collections", Form and Forgetting, 5th Annual Cambridge AHRC DTP Conference, September 21-23, 2020, virtual (due to COVID-19).
"'… able to dissolve the social fabric of Europe'? – Circulation and Censorship of Knowledge on Homosexuality in 1950s Central Europe and Today", 2nd Montreal Central European Studies Workshop / 2e Atelier montréalais sur l'Europe centrale (MCESW-AMEC); March 13, 2020, McGill University, Montréal, QC (Canada).
"Disrupting a Narrative of Progress: Remembrance of Gay Liberation vs. the Battle for Depathologization Homosexuality in U.S. History", Disruptions, 26th Underhill Graduate Student Colloquium; February 28-29, 2020, Carleton University, Ottawa, ON (Canada).
"'Die Kirche und Wir' - Church, Religion, and German-Speaking Queer Communities after World War II", 43rd Annual Conference of the German Studies Association, 5 October 2019, Portland, OR (USA).
"Accessing LGBTQ Sources and Materials at the Library of Congress. Librarian and Researcher in Conversation", together with Megan Metcalf (LGBT+ and Women's Studies Reference Librarian), 10 May 2019, Library of Congress (USA).
"The Cure: A Transnational History of Conversion Therapy", 19 September 2018, "Annual Retreat of the German Historical Institute Washington", Washington DC (USA).
"Global Europe and Trans-Atlantic Knowledge Exchange on Homosexuality", 6 June 2018, 6th GRAINES Summer School "Global Europe. Connecting European History, 17th to 21th Century", Science Po Reims (France).
"Sexuelle (Re-)Orientierung in historischer Perspektive – Ein Annäherungsversuch an eine schwer (be)greifbare Neigungskategorie", 14 October 2017, 5th Workshop der Studierenden und Young Professionals in der AG Angewandte Geschichte/Public History im VHD "Historische Dimensionen von Geschlecht", University of Hamburg (Germany).
Moderation of the Roundtable "Queer History," 4 November 2016. 2nd histocamp, Mainz (Germany).
"'Nichts als Muttersöhnchen?' – Wissenschaftsgläubigkeit und ihr Einfluss auf Amerikanische Schwule Identitäten vor Stonewall (1955-1965)", 20 September 2016, 51. Deutscher Historikertag, Hamburg University (Germany).
Research Interests
History of Gender and Sexuality
History of Psychiatry
German-American Relations and Transatlantic History
History of Migration
Memberships
German Historical Association (VHD)
German Association for American Studies (DGfA)
German Studies Association of North America (GSA)
Committee on Lesbian, Gay, Bisexual, and Transgender History (CLGBTH)