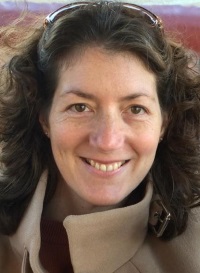 Dr. Silke Hackenesch
Institute for North American History
Department of History
University of Cologne
Albertus-Magnus-Platz
50923 Köln
Phone: +49 221-470 1171
Fax: +49 221-470 4996
Silke.Hackenesch(at)uni-koeln.de
Philosophikum, Ground Floor, Office 0.005


Curriculum Vitae
| | |
| --- | --- |
| since 04/18 | Associate Professor (Akademische Rätin auf Zeit) Department of History, Institute for North American History, University of Cologne |
| 04/15-04/16 | Parental Leave |
| 04/14-03/18 | Assistant Professor, British and North American History, Kassel University |
| 06/13-03/14 | Assistant Professor, Department of American History, Culture, and Society, Ludwig-Maximilians-University Munich |
| 03-06/13 | Postdoctoral HONORS-Fellow at the Dahlem Research School, Free University Berlin |
| 05-08/12 | Postdoctoral Fellowship at the German Historical Institute, Washington, DC |
| 02/2012 | Doctoral Degree ("summa cum laude") from the John F. Kennedy-Institute at Free University Berlin, 2012, Thesis: "Chocolate as a Racial Signifier in the Constructions of Blackness", supervised by Prof. Dr. Winfried Fluck and Prof. Dr. M. Michaela Hampf; For a review of the dissertation go to Dissertation Reviews: dissertationreviews.org/archives/10497 |
| 08/10-08/11 | Parental Leave |
| 110/07-12/02 | Ph.D. Candidate at the Graduate School for North American Studies, John F. Kennedy-Institute, Free University Berlin |
| 04-07/07 | Doctoral Fellowship at the German Historical Institute, Washington, DC |
| 02/06-03/07 | Lecturer at the Department of Anglo-American History, University of Cologne |
| 02/2006 | M.A. in American Studies, North American History, and Sociology from University of Cologne, 2006, Thesis: "The Political and Cultural Aspects of African American Hair(styles)", supervised by Prof. Dr. Hanjo Berressem and Prof. Dr. Norbert Finzsch |
| 09/04-01/05 | ERASMUS Fellowship (European Exchange Program) for one semester at the Université de La Réunion, St. Denis, Ile de La Réunion, France |
| 08/02-06/03 | Fellowship by the German Academic Exchange Service (DAAD) for one academic year at Duke University, Durham, NC, in History, African American Studies, and Women's Studies |
| 06/1998 | University-Entrance Diploma (Abitur); Gymnasium Laurentianum in Warendorf |
Areas of Interest
American Cultural History
Critical Race Studies
Commodity History
Childhood Studies
Adoption Studies
African American History
Courses in Winter 2019/20
Ma Seminar
Fables of Abundance: Mass Advertisement and Visual Culture
Tuesday, 4 to 5.30pm in room 0.012 (Philosophikum)
Lecture
Tutorial
License
Master North American Studies
Publications
Monograph
Editorship
Advisory Board Member, Book Series "Imagining Black Europe", Peter Lang Publishing, 2019-
Edited Volumes
Editor, Making Families Across Race and Nation: The Histories and Politics of Transracial and Transnational Adoption (forthcoming with Ohio State University Press in 2021)
Black Diaspora and Germany Network (ed). The Black Diaspora and Germany/ Die Schwarze Diaspora in Deutschland. Münster: Edition Assemblage, 2018.
Book Chapters
"'Hergestellt unter ausschließlicher Verwendung von Kakaobohnen deutscher Kolonien'–On Representations of Chocolate Consumption as a Colonial Endeavor," in Tiffany N. Florvil, Vanessa Plumly (eds.). Rethinking Black German Studies. Frankfurt; New York: Peter Lang, 2018.
"'I identify primarily as a Black German in America:' Race, Bürgerrechte und Adoptionen in den USA der 1950er Jahre," in Elke Kleinau, Ingvill Mochmann (eds.). Kinder des Zweiten Weltkrieges – Stigmatisierung, Ausgrenzung und Bewältigungsstrategien. Frankfurt; New York: Campus, 2016.
"Der Sarotti-M*** (1918/1922), oder: Was hat Konsum mit Rassismus zu tun?" in Jürgen Martschukat, Olaf Stieglitz (eds.). Race & Sex: Eine Geschichte der Neuzeit. Berlin: Neofelis Verlag, 2016.
"'To Highlight my Beautiful Chocolate Skin.' The Cultural Politics of the Racial Epidermis," in Dirk Vanderbeke, Caroline Rosenthal (eds.). Probing the Skin: Cultural Representations of our Contact Zone. Cambridge Scholars Publishing, 2015.
"In the Doing of Hair, One Does Race: Afroamerikanische Hairstyles als Technologien des Selbst" in Jens Elberfeld, Marcus Otto (eds.). Das schöne Selbst. Zur Genealogie des modernen Subjekts zwischen Ethik und Ästhetik. Bielefeld: Transcript, 2009.
"The Wrong Nigga to Fuck Wit! Die Hip Hop Kultur als zeitgenössische Form des Black Freedom Struggle?" in Testcard: Beiträge zur Popgeschichte 14: Discover America, April 2005, 108-13.
"African American Hairstyles zwischen politischem Widerstand und kultureller Ausdrucksform", in Testcard: Beiträge zur Popgeschichte 13: Black Music, July 2004, 26-31.
Articles (Peer Reviewed)
'These Black Americans Appear to Be the Color of Chocolate or Walnut or Caramel'. Zu Schokolade als racial signifier und Konstruktionen von Schwarzsein in den USA des 20. Jahrhunderts" in Historische Anthropologie, Vol. 25, No. 1, 2017.
"Advertising Chocolate, Consuming Race? On the Peculiar Relationship of Chocolate, German Colonialism, and Blackness," in Food & History, Vol. 12, No. 1, 2014, 97-112.
"Chocolate, Race, and the Atlantic World: A Bittersweet History", Special Issue on the Black Atlantic, Comparativ: Zeitschrift für Globalgeschichte und vergleichende Gesellschaftsforschung, Vol. 21, No. 5, 2011, 31-49.
Reviews
Review of David Ciarlo. Advertising Empire: Race and Visual Culture in Imperial Germany. Cambridge: Harvard University Press, 2011, in German Historical Institute London Bulletin, Vol. XXXV, No. 1, May 2013.
Review of Nell Irvin Painter. The History of White People. New York, W. W. Norton & Company 2010. Published on H-Soz-u-Kult, 05. October 2012.
Review of Jacqueline Goldsby. A Spectacular Secret. Lynching in American Life and Literature. Chicago, IL, The University of Chicago Press 2006. Published on H-Soz-u-Kult, 29. January 2008.
Review of Susannah Walker. Style and Status. Selling Beauty to African American Women, 1920-1975. Lexington, KY: The University Press of Kentucky, 2007. Published on H-Soz-u-Kult, 05. August 2007.
Lectures (Selection)
'My faith in Americans is Renewed with every Adoption': Transnationale und transracial Adoptionen in die USA nach 1945, Research Seminar "Familie und Verwandschaft", Westfälische Wilhelms-Universität Münster, May 2019
"Redefining Kinship through International and Transracial Adoptions", Conference "Contested Kinship: Towards a Redefinition of Human Relations", Justus-Liebig-Universität Göttingen, March 2019
"A Taste of Power? A Look at First Ladies of the United States", Keynote Lecture, Conference "(Selbst-) Darstellung und Wahrnehmung mächtiger Frauen in der antiken Welt", Universität Kassel, January 2019
"In America, black children don't get to be children–Zur Vulnerabilität afroamerikanischer Kinder und Jugendlicher", Workshop "Kindheitsgeschichte(n) - Grenzen mit- und überdenken", Stiftung Universität Hildesheim, Institut für Erziehungswissenschaft und der Universität zu Köln, Department Erziehungs- und Sozialwissenschaften/ Historische Bildungsforschung, Hildesheim, January 2019
"Martin Luther King & Bobby Kennedy: zwei ausgelöschte Leben – eine noch glühende Vision?" Invited Lecture, Amerika Haus e.V. NRW and VHS Köln, November 2018
"'My Faith in Americans is Renewed with every Adoption': Human Rights, Civil Rights, and International Adoptions in Postwar America," Conference "The Family, Human Rights, and Internationalism," Justus-Liebig-Universität Göttingen, November 2018
"Negotiating Race and Responsibility: The Adoption of Black German Children to Postwar America," Alliance for the Study of Adoption and Culture, Seventh Biennial Conference, Oakland, CA, October 2018
"Adoptions by Proxy – In the Best Interest of the Children?", Society for the History of Children and Youth, Ninth Biennial Conference, Rutgers University, Camden, NJ, June 2017
"The Sarotti-M***: Exploring the Connection of Consumption, and Racism", Annual Meeting of the German Studies Association, San Diego, CA, October 2016
"Trapped in Eternal Servitude? Chocolate as a Racial Signifier and the Case of the German Sarotti Mohr," Konferenz "Insatiable Appetite: Food as Cultural Signifier" American University of Beirut, May 2016
"Chocolate, Blackness, and the Atlantic World: A Bittersweet History," Invited Lecture, W.E.B. Du Bois Lecture Series, Humboldt Universität, November 2015
"Food and Race: Chocolate as an "Afrodiziac"?" Konferenz "Histories of American Foodways", Annual Meeting of the German Association for American Studies, Universität Erfurt, February 2015
"Vom "Mohrenkopf" zum Schokokuss; oder was hat Konsum mit Rassismus zu tun?" Invited Lecture during Black History Month, Amerika-Haus München, February 2014
"'When I die I will be happy, cause Jesus will love me with my hair nappy' – Reflections on Black hairstyles in US-Basketball Culture", Conference "Cultures of Basketball", Humboldt Universität Berlin, November 2013
"'To Highlight my Beautiful Chocolate Skin.' The Cultural Politics of the Racial Epidermis", Konferenz "Probing the Skin", Universität Jena, April 2013
"Say it Loud, I'm Black and I'm Proud: The Civil Rights Struggle of the 1950s and '60s", Invited Lecture during Black History Month, Carl-Schurz-Haus/ Deutsch-Amerikanisches Institut, Freiburg, February 2013
"Consuming Race? Chocolate and the Constructions of Blackness in German Popular Culture", Conference "Wanna Race? Constructions and Contestations of "Race" in German Cultural History", University of Cincinnati, OH, October 2012
"'Toxi kehrt heim': Der Diskurs um die sogenannten brown babies in den USA nach 1945", Research Seminar at the German Historical Institute, Washington, DC, July 2012
"Advertising Chocolate, Consuming Race? On the Peculiar Relationship of Chocolate and Blackness", Conference "Between Local and Global: The History of Cocoa and Chocolate", Stiftung Rheinisch-Westfälisches Wirtschaftsarchiv Köln, Schokoladenmuseum Köln, October 2010
"Chocolate, Race, and the Atlantic World: A Bittersweet History", Conference "Being on the Move: Transfers, Emancipation and Formations of the Black Atlantic", Universität Erfurt, July 2010
"Was interessiert uns Schokolade? Konsum, Rassismus, Genuss und Blackness", Workshop "Das Sichtbare und das Verborgene - Diskurse über Rasse und Sexualität in der Moderne", Justus-Liebig-Universität Göttingen, February 2010
"Brown Like Chocolate? Analyzing a Racial Signifier in the United States and Germany", Conference "Race: Future of an Illusion, Future of the Past", Monmouth University, West Long Branch, NJ, November 2008
Memberships
Young Scholars Network "Black Diaspora and Germany" (funded by German Research Foundation)
Deutsche Gesellschaft für Amerikastudien (DGfA)
Society for the History of Children and Youth (SHCY)
Alliance for the Study of Adoption and Culture (ASAC)
German Studies Association (GSA)
Collegium for African American Research (CAAR)
Organization of American Historians (OAH)
(sk)interlocutors: An International Skin Research Group